July 2005
Norwegians like to tell the joke about how foreigners experience the climate here: Norway has two winters, the white one and the green one. The green one is much worse, because then they don't light the fire to heat the house. We have been having a green winter.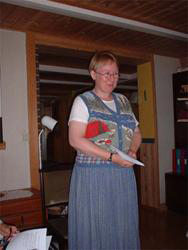 Still, the cold temperatures and cloudy days have not impeded the burst of new life on Tautra: the hatching of seagull and tjeld (oyster catcher) chicks, the blooming of a myriad of flowers, rapid progress on the building site, and, most exciting of all, the Clothing of the first Cistercian novice on Norwegian soil since the middle ages. Our postulant Kirsten became Sister Kirsten Marie on the feast of St Mary Magdalene, July 22. The Clothing ceremony is a simple one which takes place in the chapter room after Lauds. The postulant selects a passage to be read from St Benedict's Rule. The Superior then asks, "What do you ask?" and the postulant replies, "The mercy of God and of the Order." The Superior then gives a chapter talk. Mother Rosemary told Kirsten Marie that she was called, like Mary Magdalene, to witness to the Risen Christ, the Reality of love in her life. She was asking to receive the habit of a Cistercian novice and be clothed anew in the Person of Christ. She reminded Kirsten that her life as a Cistercian will not always be a garden where Jesus seems close, though Tautra often seems very like the garden of the resurrection. M Rosemary assured her, however, that the community also pledges itself to support and love her, to train her, to try to be an example, and to pray that what began on July 22 will be fulfilled in a true purity of heart and a transformation and consecration of her whole life in Christ.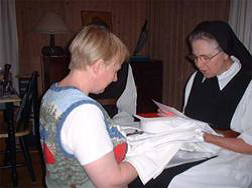 Then the postulant kneels before the prioress, and receives the habit, a cross, and a copy of the Rule. M Rosemary had written these prayers specially for Kirsten. Robe: Clothe me, Creator and Redeemer with Your pure intention. May I be adorned only by Your grace. May wearing this habit be a reminder and an invitation to the life of prayer to which You are calling me. May Your overshadowing enable me to live selflessly for the salvation and sanctification of the world and for the upbuilding of the community. Cross: Lord, give me grace to embrace the Cross in union with You. May I always see it as a prelude to the Resurrection because You have triumphed over all evil. Draw me ever deeper into your Heart that Your will may be my joy.
Rule: Holy Spirit, guide me to find Christ as the Center of the Rule. Model my obedience on His, a loving response to the Father's designs. May my thoughts be guided into Beauty, Truth and Goodness by Your teaching.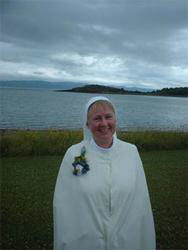 Sister Kirsten Marie then appeared at Mass, attired in the all-white habit of a Cistercian novice. After a long and joyful coffee break together after Mass, S Kirsten spent the rest of the day on Cloud Nine. The Clothing of our first novice is a milestone for Tautra Mariakloster, and we rejoice that God has called one more living stone to help build the church of Tautra. And we're going to need all the help we can get. Interest in the new monastery is booming and we sometimes feel overwhelmed by the many groups who want to come to share our prayer and to hear about progress and plans for the future. We could easily be fulltime tour guides if it weren't for the fact that we need time to be what we're called to be: Cistercian nuns. In June, S GilChrist was in Japan (see sidebar), S Marjoe visited her family in the States, and S Lisbeth had her retreat. M Rosemary asked Wrentham Abbey if they could send us a sister to help out. We were delighted that they cared enough to send the very best: S Elizabeth, who is in charge of Trappistine Quality Candy. It's a good thing she was flexible, as she had to move to a different choir stall almost every day, and fill in where needed. And she was needed everywhere: in the kitchen, garden, sacristy, soap dept., and seller of soap to all those guests. She became very efficient at setting up extra chairs in our chapel and putting them away again, and one day at midday prayer with a full guest chapel, she had to be one whole side of the choir by herself! (We asked Fr Anthony to help.) At the time of writing, the building site is closed for the summer holidays. Since work began at Easter, a very complex network of pipes and electrical lines had to be placed before the floor could be poured. In the church and main rooms of the monastery, the concrete will be white so that there will be a more beautiful contrast with the mostly dark stones that will be visible on the surface. About half the floor was poured before vacation; the rest will be finished in August. At the same time, work will begin with the laminated wood which is the weight-bearing structure-that is, the walls will be raised. We are struggling to keep up with progress by updating our website with photos-visit www.tautra.no. We also hope soon to have a link with NCC's webcamera. At this time to finish the entire project, with furniture and landscaping, we still need 1.5 million dollars (= 1.2 million euros = 9,7 million kroner).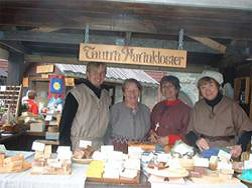 Right now the St Olav medieval market is in full swing in Trondheim, and once again our marvelous support group sells our products for ten days, bringing in a third of our annual income. We owe all our supporters a huge debt of gratitude-the new monastery on Tautra would never have come this far without each and every one of you! Tusen takk! With love from your sisters on Tautra
MONASTIC INTERRELIGIOUS DIALOGUE TRIP TO JAPAN I belong to an organization called DIM-MID which aims to promote interreligious dialogue among monks and nuns. Often this monastic dialogue is fostered by a "hospitality program" when Christian monks and nuns go to live in Buddhist or Hindu monasteries in Asia, and Buddhist and Hindu monks and nuns come to Europe or the U.S. to live in Western Christian monasteries. I was invited by DIM-MID to participate in the 10th Hospitality Program in June in Japan.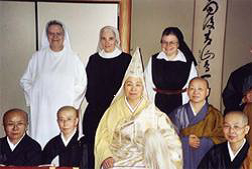 There were nine of us who particpated, from Europe and the States. We were 6 monks and 3 nuns. We arrived in Osaka, Japan on the morning of June 4th and were taken by bus to the first monastery which was Sogen-ji located about 3 ½ hours from Osaka – an hour from Kyoto. This monastery was unique in that it is primarily a temple for Westerners but directed by a Japanese Roshi. All the instructions are given in Japanese and translated into English. We arrived there at the time of sesshin, which is an intensive meditation retreat. We were involved in the meditation sessions for only 6 to 7 hours a day (with some personal time to ourselves) while the other practitioners were in meditation 14 hours a day! It was wonderful to experience life in a Zendo. You are taught how to eat, how to walk, how to sit, how to fold your hands. It was like being a child all over again. There are the "soft" memories of the delicious plum tea in the morning and the "hard" memories of being hit by a stick when you become distracted or sleepy in the meditation period. >br> There is the wonderful memory of the morning drum in the zendo and the gracefulness of the Roshi (abbot) doing prostrations all though the chanting of certain sutras. You are bombarded with new stimulae and it's hard to even describe it all. The food is also all new. Primarily it is rice, miso soup and tofu, then some vegetables and mostly, many types of salted pickles. It was about the same for breakfast, noon and supper, except that the morning rice was often a rice gruel to which you added sesame seeds. Managing chopsticks was the least of our problems. Much more difficult was learning all the ceremonies for eating. Each monastery spent about one hour teaching us how to eat!! After 5 days at Sogen-ji, we were sent to various monasteries in groups of 2's and 3's. This
allowed us to experience a variety of Japan's Zen monasteries. We came back together and shared our experiences of these different places. Some of us were in another sesshin. Others went to a monastery where they did a lot of hard work, or others went begging, and we women went to a teaching monastery where we learned various skills like copying in calligraphy the Japanese characters for the Heart Sutra. Most of us went to the monastery Ehei-ji in Fukui. It dates from the medieval period and consists of 40 buildings. It is located in a forest of giant trees, relatives of the California redwoods. Between the forest cathedral outside, and the intricate wooden carvings and other treasures inside, our eyes feasted on beauty everywhere. This monastery had 273 monks in training with 30 monk-teachers training them. The last few days were spent in a seminar in Tokyo where we dialogued with various Buddhist monks and nuns from the monasteries we had visited. We also had a memorial service for Pope John Paul, with the Buddhists chanting their sutras in one ceremony and we Christian monks and nuns participating in the Eucharist. We were all present for each others' celebrations. To celebrate the Eucharist daily in these settings was extremely meaningful for us, a focal point in this journey. We invited Buddhists to join us everywhere we went, and it was quite moving for them as well. Another joy was the cohesiveness of our group of monks and nuns. We got along so beautifully together, in situations that were sometimes difficult, especially when challenging physically. The weather was usually hot (30 – 40 C) and humid. Still, we could laugh and pray together and simply enjoy all the new things we were learning about Buddhist monastic life. In the midst of all of this, we often had profound and moving dialogues with the Buddhist monks and nuns. Usually this occurred in small groups. Always, there was great respect on both sides, and a sense that we were brothers and sisters on a very similar journey. We also noted that the Buddhist monks and nuns who best understood Christianity were the ones who had participated in the DIM-MID monastic exchanges in previous years. They would show all their photos and you could tell that the time in our Western monasteries had marked them in a very positive way. I came home very grateful for my own Christian background and monastic orientation, but also deeply respectful of the Buddhists and the training they undergo. Theirs is usually a short-term commitment for training (about 4 years), but then they continue to run temples and engage in other Zen practices, often without the support that we have in our Christian monasteries. I believe that these exchanges are very worthwhile. It wasn't always physically easy, but neither was it unbearable, and always the Buddhists took care of any special needs we had. But neither was this a tourist trip with all the comforts of home. We usually slept on very thin futons on tatami mats on the floor, although sometimes the men slept right in the zendo with all the other monks and mosquitoes as well! All in all, it was the opportunity of a lifetime.
Sr. GilChrist
For our european edition, we offer a poem by one of our neighbors which she wrote for 17. mai.
Høre te
Det er her æ høre te. Høre te med heile mæ. Høre te i sjø og fjæra. Høre te i solvarmt berg ein sommerdag. Naken fot mot fjærastein. Høre te i måseskrik og fuglesang. Å – lukta. Du må kjenn a for å forstå. Å – lyset. Det gir sjelero. Når vestavinden kjem inn mot land og bølgan skumkvit bryt mot strand. Og tanga ligg der brun og fin Da e det godt å bo. Ha takk min Skaper for dette Paradis på jord. Det e godt å høre te.
Liv Wangberg