Tautringer October 2012
Heart speaks to heart
During the week following 22. July, 2011, Sr. GilKrist was e-mailing back and forth about the terrorist events to good friends in USA. These people (Rob and Molly Lehman, Fetzer Institute) were so impressed by the way the Norwegian people met violence with love that they donated a sum of money to Tautra Mariakloster to establish a memorial for all those who were affected.
Sr. GilKrist gathered a team of artists from around Norway, as well as a filmmaker to record what they were doing. This group met several times during the year, with Srs. GilKrist, Sheryl and Hanne-Maria, to begin planning the memorial garden, which can be seen from the church.
Eventually the elements began to emerge: a slab of Larvikite–matching the altar–in the shape of a heart, inspired by the shape of Utøya and designed by Børre Larsen, with a small stream of water flowing over the heart.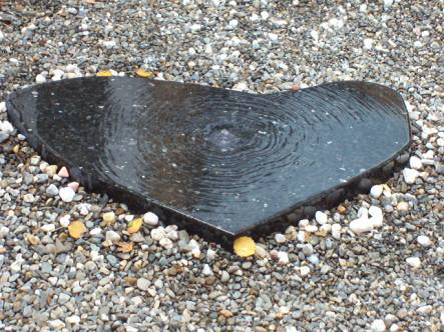 A 30 cm. gong is now struck as the Angelus bell each day, after the Office of Sext. This is a prayer for the 77 who died as well as survivors working through their grief. St Paul says in 1 Cor.13 that if he speaks like an angel but does not have love, he is only a clanging gong or a clashing cymbal. The daily ringing of the gong is a reminder to add our love and prayer to make this garden a worthy memorial.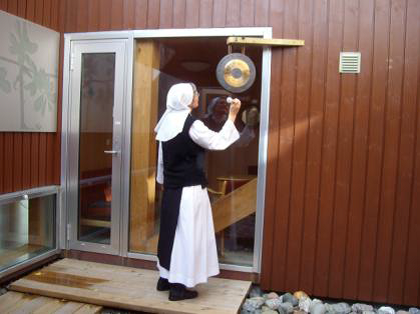 Our landscaper Ragnar Arentz and architect Per Audun Letnes rearranged the existing garden, added sand, and Ragnar made a bench out of slate. Olav Storli and Torgeir Valberg of the Frosta Garden Club made a wooden walkway.
Two local artists, Guri Rygg and Anne Bratsvedal, provided the inspiration for the sign giving the date in Roman numerals: XXII VII MMXI
The crowning element is a 5 and a half meter long frieze along the back wooden wall depicting 3 plants. The first (a lily) is totally bent over as if in sorrow. The second (a violet) is also bent over but has a bud, and exhibits hope and strength. The leaf of the violet is heart-shaped! The third (a wild rose) has two branches growing in the form of a cross, but with leaves growing from the branches: the cross as the Tree of Life. This frieze was made by boring holes in aluminum plates by Anne-Karin Furunes.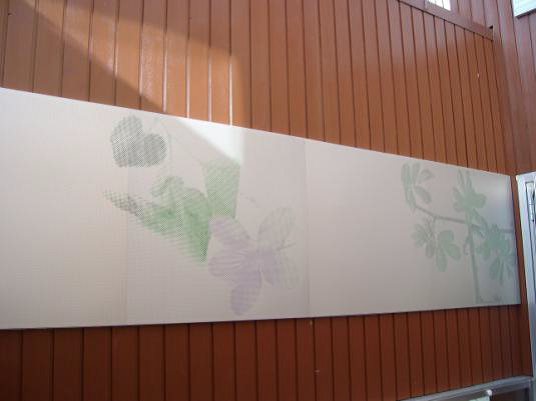 The garden was officially opened by Frosta's mayor, Johan Petter Skogseth, on 29. September, and blessed by Fr. Anthony. Artists and others who contributed to the project were present, together with Frosta's surviver of Utøya, Miriam Einangshaug (18) and her family, and the parents of Andreas Grønnesby Dalby (17),who died at Utøya. Neighbors, friends and other visitors took part in the ceremony.
The mayor emphasized the comfort and strength people can find coming to this Church and the memorial garden, being aware of the sisters' daily prayer for them and all the victims.
"The desert day of July 22 last year may have a garden ahead," said Fr. Anthony, "where the lily bent down by the tragedy has found new life in the meaning we are giving the victims of July 22: Your lives were not in vain, and your memory will be kept alive, carried to the Lord of Life by all who visit this Church."
Miriam expressed her deep gratitude for being alive, and shared how she has learned the importance of living the moment gratefully.
When S.GilKrist was elected prioress, she had already planned her silver jubilee. The real date of her first profession of vows is January 4, but she chose to celebrate her jubilee on a very special day: May 17. S.GilKrist was born in Canada, but grew up in Chicago, and is so proud of becoming a Norwegian citizen that she wanted to celebrate on the Norwegian national day. In addition, May 17 this year was also the Solemnity of the Ascension so there were three good reasons to raise the flag.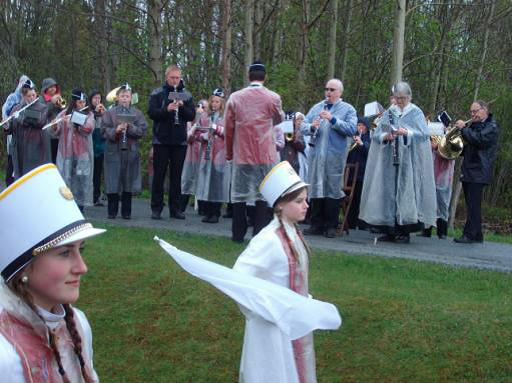 Fr.Anthony said in his homily that S.GilKrist's life is characterized by "Blowin' in the wind"—from The Windy City as a 5-year-old to Tautra as a foundress – where one day the wind was so strong that as she processed from the tiny, temporary chapel in the red house to the refectory in the white house, that it whipped the veil off her head, and blew it away. The sisters looked for it to no avail. Six months later S.Lisbeth happened to look up while singing vespers,
and saw something black fly by the window. She went to investigate, and came back rejoicing with S.GilKrist's veil in her hand—without a smudge or wrinkle.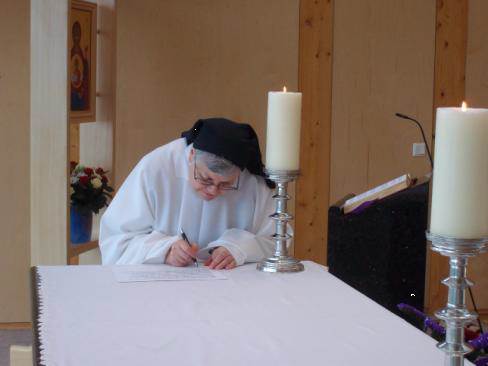 The Holy Spirit blew S.GilKrist first to the Benedictines, then to the Cistercians in Arizona, and then to Our Lady of the Mississippi Abbey in Iowa – the motherhouse of Tautra. The monastery in Arizona is situated in the desert, and S.GilKrist came to love the spirituality of the desert: silence, openness, solitude and a fierce landscape. Living on an island in the Trondheim fjord offers, surprisingly enough, some of the same qualities: the expanse of water is a desert of sorts, with an open sky and a view of the horizon in all directions. When the foundresses drove through Frosta on their way to Tautra on Feb.28, 1999, S.GilKrist was so taken with the peninsula's and the fjord's spectacular beauty that she burst out: I can't believe that I get to live here the rest of my life! Norway reminded her so much of Canada that to move here was like coming home.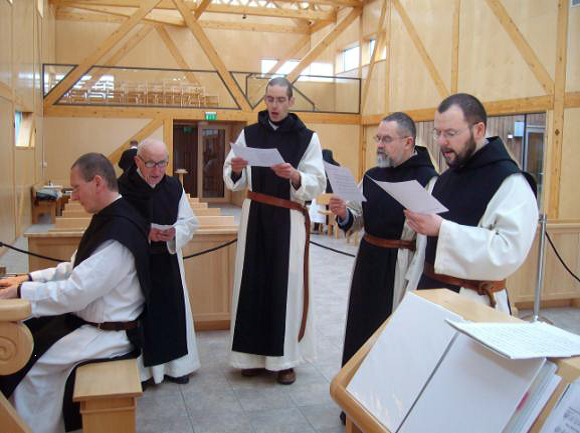 The Spirit of God has blown S.GilKrist around the world. One of the signs of those who believe, as the gospel for Ascension proclaims, is speaking in tongues. S.GilKrist wanted to celebrate the jubilee Mass in several languages. The traditional, gregorian entrance chant was sung in latin, the common of the Mass was in Norwegian, the offertory was sung by the monks in French, and the intercessions were in English, French, Dutch, Norwegian og Mandarin. After communion we sang the Norwegian "God save the king", and we ended the Mass with "Pray for us, holy Olav, Norway's eternal king!"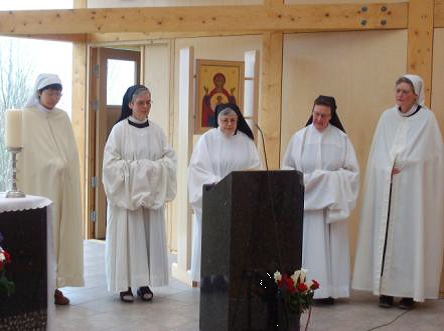 Fr.Anthony cited a Chinese proverb: «If you want to be happy for a week, get married! If you want to be happy for a month, slaughter a pig! If you want to be happy forever, plant a garden!" May the garden of S.GilKrist's life continue to bear rich fruit that brings joy to everyone she meets. Congratulations, Mother GilKrist, and Ad multos annos!
In September we had our biannual visitation, delegated this time to Dom Daniel of Caldey. He led us in some good community dialogues on what we can do to feel less pressured on the workfront, and finding our place in this revisioned community. We're still becoming a new community, and it will take more than a half a year. Dom Daniel was impressed by our openness. We are aware of challenges and of our weaknesses and speak about them. And we don't lack a sense of humor! Basically we are at peace with each other and with our situation as a relatively new community working to integrate many different cultures. We need to let go of our own designs, and trust God to lead us into the future one step at a time.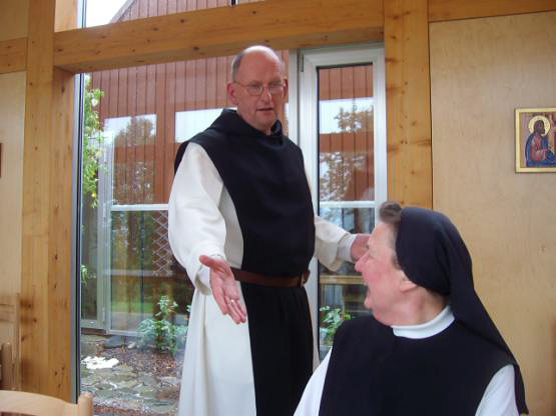 Dom Daniel was a professional singer before he became a monk, so he had to sing Happy Birthday to S.Marjoe in Dutch!
We are enjoying crisp autumn days with the last of the plums and bright red apples, and aspen leaves shimmering, shining gold against a brilliant blue sky. We wish you all the contentment of a bountiful harvest both from our good earth and the good spirit within each of us. Enjoy life and the miracle of each day.
With love from your sisters on Tautra
Fr.Erik Varden, the only Norwegian monk in our order, finally paid us a visit on his way back to Mt St Bernard Abbey in England and shared with us his work on St Hypatios.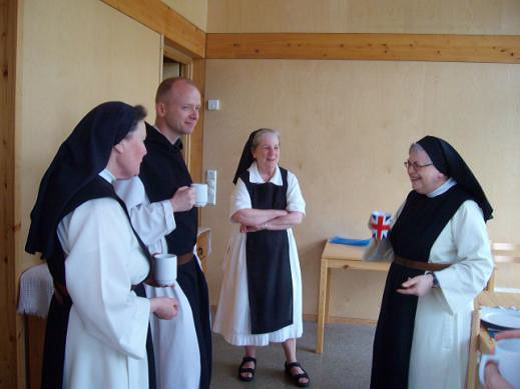 Br Columba of Portglenone Abbey in Northern Ireland returned for 3 weeks as our tailor.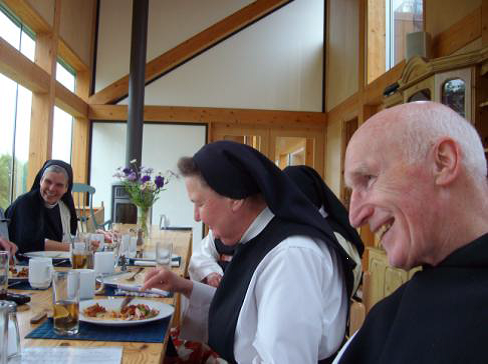 Our tireless support group once again brought in a significant amount of our annual income by selling our soap and cream products during the week-long St Olav festival in Trondheim. Here Fr.Anthony takes a closer look at the soaps offered at the Tautra Mariakloster booth.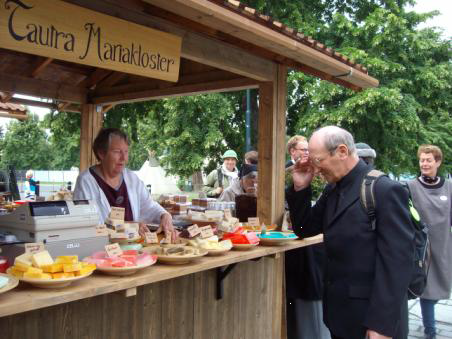 Each autumn our island is host to flocks of geese winging their way south.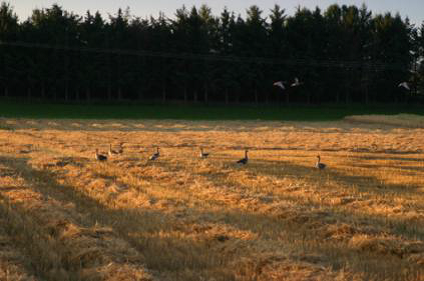 Srs GilKrist and Sheryl represented Scandinavia at the European MIDDIM (monastic interreligious dialogue) meeting at Bose monastery in Italy which included a trip to the Hindu monastery Gitananda Ashram.